109 High Street, Thame, Oxfordshire, OX9 3DZ
Monday-Friday, 9.00-17.30
Temporary Services
In order to run a business efficiently the use of temporary staff can help to cut your costs and increase workforce flexibility. Temporary staff can provide short or long term cover for a variety of reasons, e.g. sickness cover, holiday cover, busy periods, maternity cover etc. Downtown Recruitment can provide various types of temporary staff (Commercial, Industrial or Catering) for anything from a day to longer term assignments of many months. All of this can be provided at short notice and for a fixed hourly rate with no hidden charges.
Downtown Recruitment carries out the following procedures for every temporary candidate:
Face to face interview of every candidate, assessing their skills, experience and types of work they are suitable to carry out.
Check any relevant qualifications, training or licences required for the role in question.
Check the candidate's documentation to ensure that they are eligible to work in the UK.
Carry out referencing of the temporary worker's previous jobs or schooling
In order to maintain our high standards of service, Downtown Recruitment also sends out temporary reports, at the end of a candidate's assignment, to gather feedback from our clients to ensure that we are providing a continually high calibre of candidates.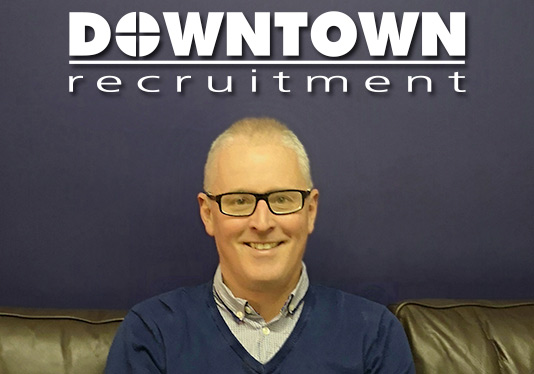 Steve Young
Managing Partner
Steve Young is the Managing Partner of Downtown Recruitment and has been working within the family business since 1997. In that ti...
Candidate Assessment
At Downtown Recruitment each candidate is individually interviewed and profiled before being submitted for any vacancy. Our in depth interview process usually takes 30-45 minutes for each candidate and includes reviewing their work history, qualifications and any other relevant information. We also establish their search criteria, goals and aspirations.
Testing
Downtown Recruitment can provide testing of candidates' IT skills which include Word, Excel and typing speed.
Free Guide to "Recruiting Staff Successfully" & Employer Newsletter
Stay current with our latest insights
Free Guide & Newsletter
Current time: 11:11, Wednesday, 29 June 2022 . Jobs database last updated: 17:14, Tuesday, 28 June 2022