109 High Street, Thame, Oxfordshire, OX9 3DZ
Monday-Friday, 9.00-17.30
Permanent / Contract Services
Our highly skilled and experienced consultants will guide you through your permanent or contract recruitment needs from start to finish. After defining your needs and the requirements of the role we can then proceed with the recruitment process.
We will advertise the role on external websites to gain candidate attraction. We will also conduct a full and thorough selection to ensure that you will receive the highest calibre candidates to meet your criteria. We also provide the following:
Dedicated consultant who will account manage your vacancies.
Advertising your vacancy on several external job boards.
In depth face to face interviewing, profiling and assessment.
Full interview co-ordination and follow up including feedback, job offers, and referencing.
Pre testing of candidate's PC skills if requested or overseeing psychometric or client led tests at our offices if required.
Full interview facilities available at our office to ensure confidentiality.
Cost effective and competitive terms including a 4 week full refund guarantee period on permanent placements.
We look forward to hearing from you!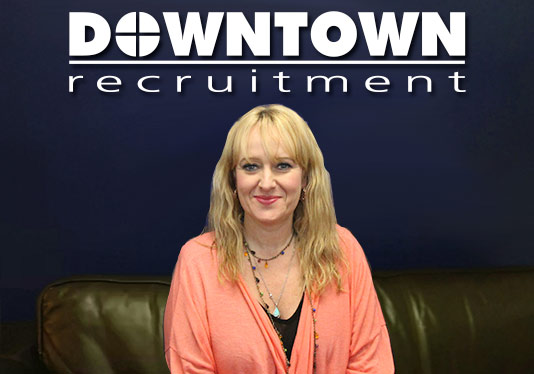 Katie Finch
Permanent Consultant
Katie is an experienced Business Development Executive, with a strong background in Recruitment and Executive Search. Expertise wi...
Candidate Assessment
At Downtown Recruitment each candidate is individually interviewed and profiled before being submitted for any vacancy. Our in depth interview process usually takes 30-45 minutes for each candidate and includes reviewing their work history, qualifications and any other relevant information. We also establish their search criteria, goals and aspirations.
Testing
Downtown Recruitment can provide testing of candidates' IT skills which include Word, Excel and typing speed.
Free Guide to "Recruiting Staff Successfully" & Employer Newsletter
Stay current with our latest insights
Free Guide & Newsletter
Current time: 11:25, Wednesday, 29 June 2022 . Jobs database last updated: 17:14, Tuesday, 28 June 2022